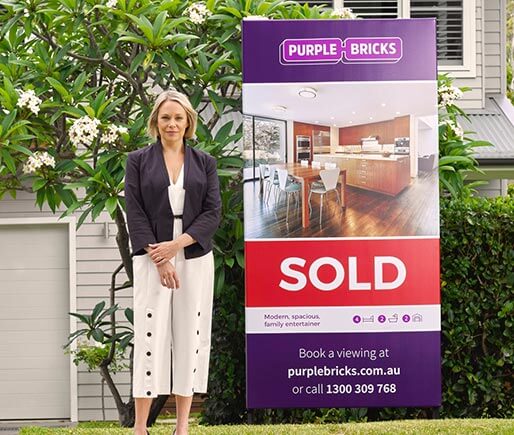 Dedicated agents
You'll benefit from an experienced and dedicated local agent from appraisal to settlement. With expert knowledge in your local area, your agent is on hand to make the process of selling as easy and rewarding as possible. They will:
take care of every aspect of the sale – starting with listing your property, and then arranging the photographs, floor plans and For Sale board
be on hand to manage open homes or private inspections, and liaise with potential buyers
Negotiate getting the best possible sale price
co-ordinate with auctioneers to ensure that, if you choose to sell at auction, you have the best possible result on the day.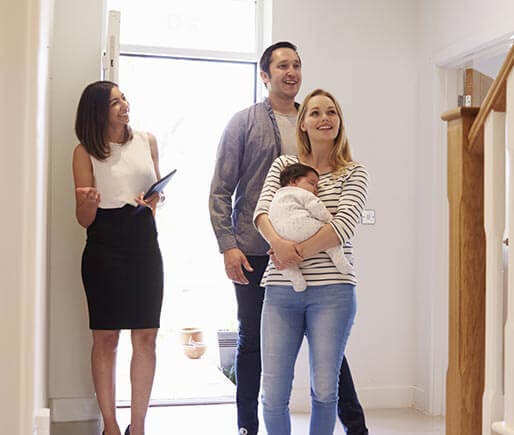 Open Homes & Private Inspections
Your agent will manage your open homes, and help people inspect the property at their convenience. They'll:
organise all advertising required for open homes
liaise with all interested parties, and follow up on inspections
request feedback through My Purplebricks
be on hand to answer questions, and address any concerns prospective buyers might have
put your property in the best possible light
use the My Purplebricks platform to advise you on all offers, feedback or expressions of interest
support you every step of the way until settlement.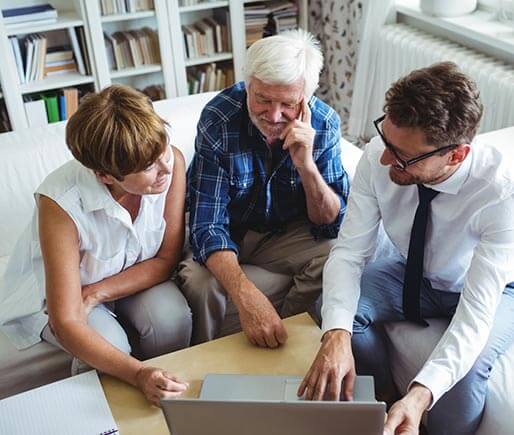 Negotiations
Getting the price you want for your property requires skilful negotiation, and your agent has honed those abilities to a fine art.
However, you may wish to negotiate on your own behalf, and with Purplebricks you have the ability to be as involved as you want to be. Who better than you to highlight the best features of your property? With the My Purplebricks platform, you're empowered to do just that.
It's your property, and we're more than happy to help you get your campaign across the finish line any way you choose. Of course, most of our customers are happy to leave it all to us.
$4,400
Marketing Package iMarketing Package fee of $4,400 (including GST) is non-refundable and payable regardless of whether your property is sold. Pay Later options are available. Find out more
+
$4,400
Success Fee iThat's right! We only get paid when you get paid for your property sale. Find out more
That's $8,800 for the successful sale of
your property.
Selling by auction?If you sell by auction you'll also pay a low fixed auction fee – just $660 incl. GST
Selling in Western Australia?In WA the Marketing Package is $2,200 and the Success Fee is $6,600. Find out more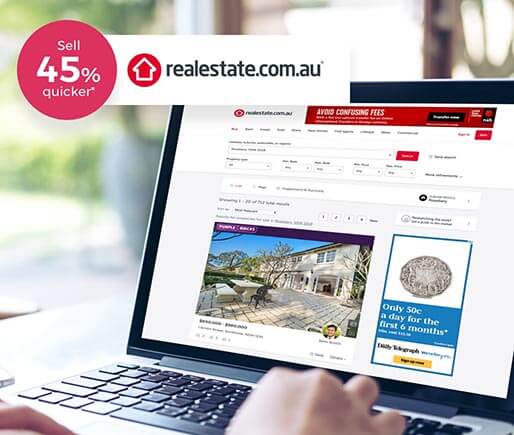 Premiere advert on realestate.com.au
You'll enjoy a Premiere advertising listing on realestate.com.au for the first 45 days of your campaign, ensuring that your property stands out from the crowd. Not only will your ad be larger, it will also top the relevant search results. It's a great way of improving your visibility and importantly a Premiere listing is proven to work:
88% of buyers use the internet as their primary property search tool 1
53% of consumers don't look beyond the first page 2
a Premiere spot captures up to 16 x the views of a Standard listing 3
Premiere properties receive 5.5 x more enquires than a Standard listing 4
Premiere properties sell 45% quicker than Standard listings 5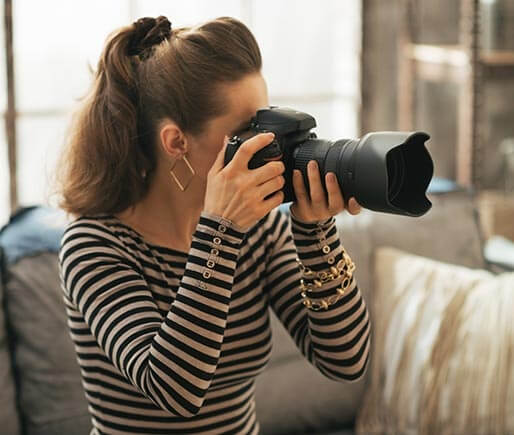 Comprehensive marketing
You can look forward to a suite of marketing solutions to promote your property to the right prospective buyers – all of which are included. Even better, all the work will be done for you. We'll:
arrange the photography of your property, and consult with you about which aspects to feature
organise floor plans
arrange your property listings, which will include a Premiere listing with realestate.com.au as well as listings on domain.com.au and Purplebricks.com.au
organise a For Sale board outside your home.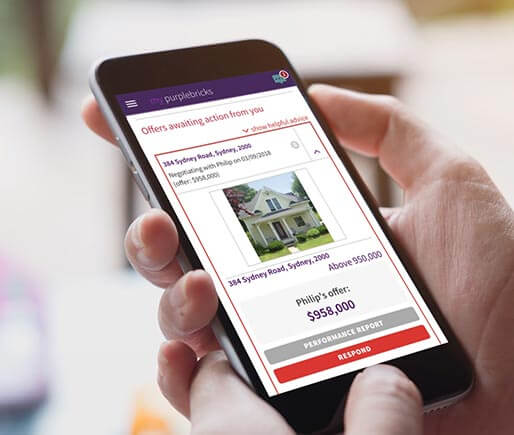 My Purplebricks
The My Purplebricks platform is transforming the way property is sold. Usually, you're reliant on agents to present offers, pass on feedback, and represent your best interests. However, the My Purplebricks platform will give you full visibility of your campaign 24/7.
What's more, buyers that register their interest in your property are alerted when other offers are made, creating competition and urgency.
All this means that you can:
view offers from prospective buyers in real time
negotiate on your own behalf should you choose, or through your agent for no extra fee
review feedback instantly
benefit from the increased competition between buyers
respond to buyer interest quickly – to answer questions or confirm inspection requests.
---
Residential Consumer Property Seeker Report, December 2013.
REA Omniture internal data November 2016.
REA internal data warehouse. This is an average based on activity on realestate.com.au between 1 September and 30 October 2013.
REA internal data November 2016
REA internal data, days on site for Premiere property vs. Standard